Domino® Sugar's Past & Present
For over a century, Domino® Sugar has been a high-quality ingredient trusted by cooks to perform perfectly in their favorite foods. These products have been at the heart of beloved recipes passed down through generations, and their packages have filled the pantries of millions. As we introduce the next chapter in the Domino® Sugar story, we take a short walk through the history of the brand in honor of all those who've helped us craft so many quality products along the way.
Domino® Sugar's Past & Present

The Debut of Domino® Sugar

As the 19th Century gave way to the 20th, the pantries of America's bakers and chefs were stocked with packages bearing a new name—Domino® Sugar.

1901

Quality Welcomes Additional Variety

To meet the needs of consumers, Domino® Sugar continues to expand the sizes and forms its sugar is sold in. Attractive, original packaging is a hallmark.

1906

Appealing To Aspiring Bakers

With high-quality products now highly in demand, Domino® Sugar continued to supply home bakers— even imploring them to ask their grocer to start stocking their now-favorite brand.

1906

Pure Cane Sugar in America's Pantries

On an automated packaging line in Domino® Sugar's New Jersey refinery, the sweetness of its sugar was packaged for sale far and wide.

1906

Domino® Dots

Product innovation would become a Domino® Sugar staple throughout the years, with favorites like Domino® Dots meeting the needs of consumers.

1914

Sharing Recipes While Selling Sugar

Recipes included on Domino® Sugar's iconic packaging informed bakers of ways to use the products, while a new spout was included to make it easier to use.

1914

Superfine and Super Colorful

Color images and recipe ideas continued to offer value and showcase the variety of occasions where sugar could be used.

1914

Sweetness and Smiles

Additional colors and illustrations draw attention to this package, and a clown print giveaway was used to entice consumers to enjoy the products.

1914

New Product Names Offer New Appeal

Creating additional ways to offer sweetness, both emotionally and with functional benefits for any occasion, was always part of Domino® Sugar.

1914

The Same Great Sugar Enters A New Age

Sleek, minimalist packaging brought trusted Domino® Sugar to consumers in a more modern way.

1950

Promotional Points For Powdered

As a leading national brand, Domino® Sugar partnered with others like Heinz and Ore-Ida to add value for shoppers.

1960

An "I" On Modern Design

The familiar asterisk atop the "I" in the Domino® Sugar logo is replaced with a bolder star, and this new iteration benefits from a change in typography as well.

1970

A Colorful Look For Confectioners Sugar

Bright colors differentiate between different types of sugar, while the signature Domino® Sugar yellow still made the brand easily seen on the shelf.

1970

Tradition, Updated For The Times

Hostess tablets remained popular, while packaging continued to evolve over the years. Here, a radial pattern of yellows and oranges is used.

1970

The Best Sugar Gets Brighter, Bolder

The 80's were a colorful decade, and Domino® Sugar embraced it. Bigger type, bolder designs and full-color images of delicious baked goods were featured.

1980

Tasteful Taste Appeal

Bright colors grabbed shoppers attention, while delicious images of desserts made with Domino® Sugar tantalized the sweet tooth of shoppers.

1980

The 5-Pointed Star

Differentiating by color and variety, then adding a prominent star to the name were among the last updates to the packaging.

2002

Reshaped and Reusable

Adding to existing 3 and 5-pound bags, new 4-pound plastic tubs gave consumers a convenient, resealable and recyclable choice to consider.

2005

Pourable and Quick Dissolve Variety

High-quality Domino® Sugar became even more convenient as we introduced an easy to use flip-top packaging for beverages.

2013

Domino® Sugar's Newest Look

Today, an updated logo and refreshed packaging with clear descriptions for each type of sugar help to modernize the Domino® brand. This is the beginning of a new era continuing the journey as the high-quality sugar and trusted baking partner in the kitchen for generations to come.

2021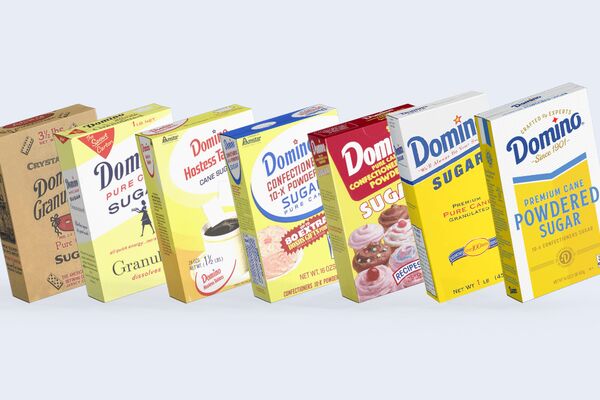 New recipes, new looks & more
Sign up for the Domino® Sugar newsletter and we'll keep you up to date with all the latest happenings in our kitchen and with our brand. 
Sign Up