Ingredients
For Creamsicles
1 cup Orange Juice, store-bought with no pulp or freshly squeezed and strained for pulp (from 3-4 large navel oranges)
1 cup Plain Greek Yogurt
2 teaspoons Vanilla Extract
2 tablespoons Domino® Golden Sugar
For the Graham Cracker Crumble
1/3 stick (39 grams) Unsalted Butter
4 Graham Cracker Sheets, broken into small pieces
1 tablespoon Domino® Light Brown Sugar
Pinch Salt
Prep Time + Freeze Time: 20 minutes / Yields: 10 servings
Prepare Creamsicle Mixture:
---
Step 1:
Add all ingredients to a blender and blend until well combined. Pour into popsicle molds, leaving 1 inch of head room and freeze for 30-40 minutes or until set but not frozen solid.
Prepare the Graham Cracker Crumble:
---
Step 2:
In a small saucepan over medium-low heat, melt the butter 5-7 minutes till golden brown. Set aside. In a medium bowl, mix graham cracker pieces, brown sugar, and salt. Add browned butter and mix until evenly coated. Allow to cool before using.
Step 3:
Once creamsicles have set, sprinkle tops of popsicles with graham cracker crumble. Insert popsicle sticks and freeze for at least 2 hours or until completely frozen.
Additional Tips:
To help popsicles set, chill popsicle mold for at least 10 minutes prior to adding creamsicle mixture. Be sure to cool graham cracker crumble before using to top frozen popsicles
To make striped creamsicles, you will need an additional 1/2 cup of orange juice. Prepare creamsicle mixture and place in the fridge to chill. Add 1 tablespoon of orange juice to popsicle molds and freeze for 20 minutes. Remove creamsicle mixture from the fridge and stir. Add 2 tablespoons of creamsicle mixture to each popsicle mold, freeze for 20 minutes. Repeat twice, alternating between plain orange juice and creamsicle mixture, chilling creamsicle mixture and OJ in the fridge to chill between freezings. Top with graham cracker crumble and proceed with remaining instructions
To easily remove frozen popsicles from the molds, dip the molds in warm water for 10-15 seconds before removing popsicle
Popsicle sticks can be reused. Wash well with warm soapy water, rinse and allow to air dry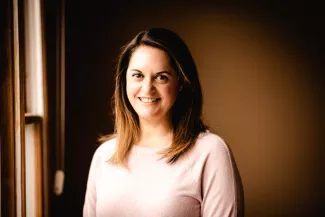 Meet the Chef:
Kimberlee Ho
@kickassbaker
Kim is the blogger behind Kickass Baker. She is a home baker, wife, mom of two beautiful girls, and an active seeker of a life in balance. Kim shares approachable baking recipes and tips for busy families like her own. Follow along at kickassbaker.com!