Back-to-school goes old-school with cookies that are reminiscent of days when all the cool kids carried tin square lunch boxes and a note from Mom. Watch, in the video below, as SweetAmbs® packs a playful lunch 
and then make a batch for your own little lunch buddies.
Amber's Tips
Here are some of the tools Amber used in making our Back to School Lunch Cookies:
Bread slice cookie cutter
Apple cookie cutter
Rectangle cookie cutter for the note
Small round cookie cutter for the chocolate chip cookie
Rectangle cookie cutter for the note
Paring knife to cut the lunch box, milk carton, and contents of the sandwich
Icing tip #3 for the base layer of icing on all of the cookies
Icing tip #2 for the pink outline, yellow handle, rainbow and clouds on the lunchbox, the spots on the bread and contents of the sandwich, and the leaf and stem on the apple.
Icing tip #1 for the crust of the bread, chocolate chips, details on the milk carton, and holes in margin of the note
Edible ink markers in pink, blue, and black for the note
Toothpick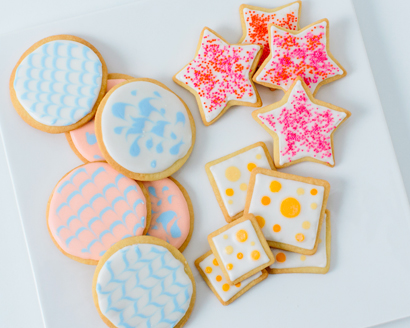 Try Domino® Sugar's classic sugar cookie and icing recipes for making your own Back to School Lunchbox cookies: 
Classic Sugar Cookies

4 cups sifted all-purpose flour (sift flour before measuring)
2 teaspoons baking powder
1 teaspoon salt
1 1/2 sticks (12 tablespoons) butter or margarine, softened
1 1/2 cups Domino® Granulated Sugar
2 eggs
1 1/2 teaspoons vanilla extract
Instructions  
Preheat oven to 350°F. Sift together flour, baking powder and salt; set aside.
In a large bowl, beat the softened butter with the sugar until fluffy. Add eggs and vanilla, beat well. Stir in dry ingredients, a third at a time, until all is incorporated for a smooth, stiff dough.
Using waxed paper lightly dusted with Powdered Sugar, roll out a portion of the dough into a 1/4 inch thick rectangle. Press cookie cutter of desired shapes into dough. Trim away excess dough. Gently lift cut out cookies from waxed paper and place on greased cookie sheets. Repeat rolling and cutting until all dough is used.
Bake at 350°F for 10 minutes or until cookies are firm and light golden brown. Remove from cookie sheet and allow to cool completely before decorating.
NOTE: This dough is very easy to work with and does not require refrigeration before rolling. Can be stored in the refrigerator for several days; allow to come to room temperature before rolling.
---
Royal Icing

2 cups Domino® Powdered Sugar
1 1/2 tablespoons meringue powder
3 tablespoons warm water
Assorted food coloring
Instructions
In a bowl, with mixer at medium speed, beat powdered sugar, meringue powder and warm water until stiff peaks form, about 5 - 7 minutes. If icing is too thick, add a couple of drops of water. If icing is too thin, add additional powdered sugar; continue beating until desired consistency. Tint icing with desired food coloring. Using a pastry bag with decorator tip, decorate as desired. 
 
QUICK TIP 
Meringue powder is available in specialty stores wherever cake-decorating equipment is sold.
Use icing immediately. Keep covered with a damp cloth or plastic wrap to prevent drying.
---
SweetAmbs® Lunch Box Cookies