Ingredients
3 cups Whole milk
1/2 cup, plus 1 tablespoon Domino® Golden Sugar
2 teaspoons Orange zest
1 teaspoon Kosher salt
1 teaspoon Ground cardamom
4 Eggs
1 Egg challah, cut into 1-inch slices
1/2 cup Crème fraiche
1 tablespoon Orange juice
1 stick Unsalted butter
Prep Time: 1 hour soaking time, Prep time15 minutes / Cook Time: 15 minutes / Yields: 4-6 servings
Step 1
In a large bowl, whisk together milk, 1/2 cup of Domino® Golden Sugar, orange zest, salt, cardamom and eggs until smooth and the golden sugar has dissolved.
Step 2
Layer the challah in a large baking dish. Pour the egg mixture over the challah, flipping the pieces to make sure each one is coating. Let soak for 1 hour.
Step 3
Meanwhile, in a small bowl, whisk together the creme fraiche and orange juice with the remaining 1 tablespoon of golden sugar, then set aside.
Step 4
Heat 1 tablespoon butter over medium heat in a large nonstick skillet. Add 2 to 3 pieces of challah and cook until golden brown, 2 to 3 minutes.
Step 5
Flip each piece, then add another tablespoon of butter to the pan. Cook until the other side is golden, then transfer to a platter. Repeat this process until all the French toast is cooked.
Step 6
Divide the French toast between plates and garnish with orange creme fraiche. Serve immediately!
Chef's Tip
It's a perfect dish to prep in advance and cook off right before your guests arrive. Then, you can put them in a hot oven to reheat right before serving (but they're just as good room temp or even cold).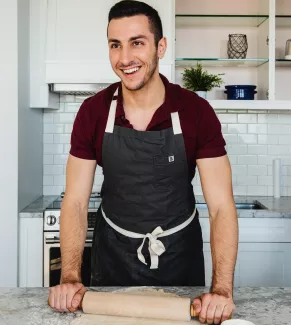 Meet the Chef:
Jake Cohen
@jakecohen
Jake Cohen is a recipe developer and nice Jewish boy from New York. A former food staffer at Saveur, then food editor of Tasting Table and Time Out New York, and most recently the editorial and test kitchen director of social media juggernaut the Feedfeed. When he isn't writing about food for publications including Food52, Food & Wine, and Real Simple, he's posting challah-braiding videos and recipes on his Instagram and TikTok (@jakecohen).