Ingredients
Cookies:
3/4 cup Unsalted butter, softened
1 cup Domino® Golden Sugar
1/2 cup Domino® Dark Brown Sugar
1 Large egg, lightly beaten, room temperature
1 Large egg yolk, lightly beaten, room temperature
1 teaspoon Pure vanilla extract
1 1/2 cups All-purpose flour
2/3 cup Dutch process cocoa powder, sifted
1 teaspoon Fine sea salt
1/2 teaspoon Baking soda
1/2 teaspoon Espresso powder
Ganache Filling:
1 1/2 cups Semi-sweet chocolate chips, chopped
1 cup Heavy cream
1/2 cup Creamy peanut butter
Prep Time: 45 minutes / Cook Time: 12 minutes / Yields: 6 large cookie sandwiches
Prepare cookies:
---
Step 1
Preheat the oven to 350°F and line two large baking sheets with parchment paper or a silicone baking mat.
Step 2
In the bowl of a stand mixer fitted with the paddle attachment, beat together the butter, Domino® Golden Sugar, and Domino® Dark Brown Sugar, until light and fluffy, about 2-3 minutes. Add the eggs and vanilla, then mix again to combine. Scrape down the sides and the bottom of the bowl to ensure all ingredients are incorporated.
Step 3
In a medium bowl, hand whisk together the flour, sifted cocoa powder, salt, baking soda, and espresso powder. Spoon the flour mixture into the butter mixture. On low speed, mix until a cookie dough has formed. Again, scrape down the sides and bottom of the bowl with a rubber spatula as needed.
Step 4
Using a cookie scoop, measure out 2 tablespoon balls of cookie dough. Roll the dough gently in palm of your hands to create a smooth shaped ball. Place dough balls 2 inches apart on lined trays.
Step 5
Bake on the middle rack for 12-14 minutes, until cookies are just set around the edges and puffy in the center. Tap tray on the counter to deflate cookie slightly. Then place trays on wire rack to completely cool.
Step 6
Repeat with any remaining dough.
Make the ganache filling:
---
Step 7
Place heavy cream in a medium skillet on medium heat until just slightly bubbling but not a raging boil.
Step 8
Place chopped chocolate in a large bowl and pour the warm heavy cream over top. Add the peanut butter and stir until smooth.
Step 9
Let this ganache cool completely.
Step 10
Using a handheld mixer, whip the cooled ganache until it forms a lighter spreadable consistency. Transfer to a piping bag with large piping tip.
Step 11
Take once cooled cookie and turn it upside down. Pipe a ganache in a circular motion over the cookie. Place another cookie on top to create a sandwich. Repeat with remaining cookies.
Additional Tip
Store cookies in an air tight container at room temperature for 4-5 days.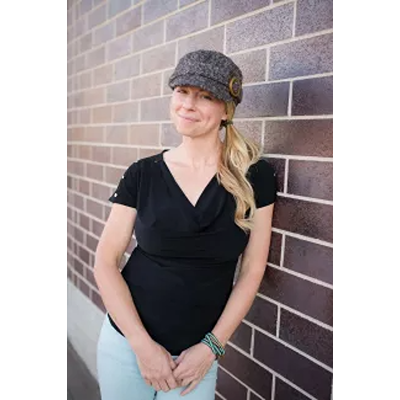 Meet the Chef:
Jenn Davis
@twocupsflour
Jenn is a foodie and photographer inspired by all things out of the ordinary; she's obsessed with vintage, moody story telling, unexpected flavor twists, and, obviously, baking! Her blog, Two Cups Flour, is dedicated to her love of baking and her three favorite things to eat: breakfast, bread, and dessert. Jenn enjoys crafting recipes from scratch, and her goal is to teach her readers and audience how to successfully do the same! On her blog you'll find new twists on old classics, exciting ingredient combinations, and helpful instructional tips on each recipe.