Ingredients
For the Cupcakes
1 cup (200 grams) Domino® Golden Sugar
2 cups (240 grams) All-purpose flour
3/4 cup (65 grams Unsweetened natural cocoa powder
1 tsp Baking powder
3/4 tsp Baking soda
1/2 tsp Fine sea salt
1/3 cup (75 grams) Vegetable oil
1/2 cup (120 grams) Milk
1 Large egg
1 tsp Vanilla extract
1/2 cup (120 grams) Hot chocolate (or hot water)
For the Marshmallow Meringue Frosting
3 Large egg whites
3/4 cup (150 grams) Domino® Golden Sugar
1/4 tsp Cream of tartar
1 tsp Vanilla bean paste
Prep Time: 15 minutes / Cook Time: 20 minutes / Yields: 12 cupcakes
To Make the Cupcakes
---
Step 1
Preheat oven to 350°F (180°C). Line a cupcake pan with cupcake liners.
Step 2
In a large bowl, whisk the Domino® Golden Sugar, flour, cocoa powder, baking powder, baking soda, and salt together then set aside.
Step 3
In a large bowl, whisk together the vegetable oil, milk, egg, and vanilla extract and stir until combined. Pour the wet ingredients into the dry ingredients and whisk until completely combined.
Step 4
Add the hot chocolate and stir until the mixture is evenly combined. (When the hot chocolate is initially added, the batter may separate a bit, but continue stirring until it's even in texture. The batter will be thick, don't panic!)
Step 5
Spoon the batter into the liners until each cup is 2/3 full. Bake for 18-22 minutes, or until a toothpick inserted in the center comes out clean. Allow the cupcakes to cool completely before frosting.
To Make the Marshmallow Meringue Frosting
---
Step 1
In a large heatproof bowl, whisk together the egg whites, Domino® Golden Sugar, and cream of tartar, then set the bowl over a saucepan filled with just two inches of simmering water over medium heat. Do not let the bottom of the egg bowl touch the water. Whisk the eggs and sugar constantly until sugar is dissolved and the mixture has reached a temperature of 160°F (71°C), about 4 minutes. The mixture will be thick and tacky at first, then thin out and become frothy.
Step 2
Transfer the hot egg mixture to a stand mixer fitted with the whisk attachment, and add the vanilla bean paste. Beat on high speed until stiff, glossy peaks form, about 4 to 5 minutes.
Step 3
Transfer meringue to a piping bag and pipe onto cooled brownie cupcakes using a large round open tip. If desired, use a kitchen torch to toast.
Notes
Cover and store leftover cupcakes at room temperature or in the refrigerator for 1-2 days.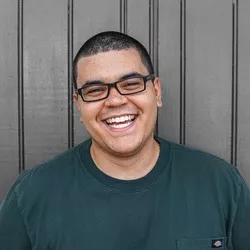 Meet the Chef:
Michael Johnson
Michael Johnson
Meet Mike! He is a New York City-based baker, recipe developer, and food photographer who loves to create indulgent, over-the-top yet approachable dessert recipes. Follow along for recipes designed to satisfy any sweet-tooth!