Ingredients
1/2 cup Butter, softened
1 cup Domino® Granulated Sugar Easy Baking Tub
1/2 cup Domino® Light Brown Sugar
1/4 cup Cocoa powder
3 Tbsp Powdered hot cocoa mix
2 Eggs
1 tsp Vanilla extract
2 1/2 cups All-purpose flour
1 tsp Baking soda
1/2 tsp Salt
15 Large marshmallows, cut in half
1/2 cup Domino® Granulated Sugar Easy Baking Tub (for rolling cookies)
Prep Time: 30 minutes / Cook Time: 10 minutes / Yields: 30 cookies
Step 1
Preheat the oven to 350 degrees F and line two aluminum baking sheets with parchment paper.
Step 2
In a large bowl, beat the butter, Domino® Granulated Sugar, and Domino® Light Brown Sugar until fluffy. Add the cocoa powder and hot cocoa mix and beat until fully combined.
Step 3
Add the eggs one at a time and beat until fully combined. Add the vanilla extract and beat until incorporated. Set aside.
Step 4
In a separate bowl, whisk together the flour, baking soda, and salt.
Step 5
Pour half of the flour mixture into the large bowl of wet ingredients and beat until combined. Then, add the remainder of the flour mixture and beat on low until the cookie dough comes together.
Step 6
Use a medium cookie scoop to portion the dough. Use your thumb to make an indentation in each ball, then stuff with half of a marshmallow. Roll the dough balls in your hands until the marshmallow is almost fully covered with dough. Finish by rolling each ball in additional Domino® Granulated Sugar until fully coated and place on the baking sheet at least 2 inches apart.
Step 7
Bake for 9-10 minutes. When the cookies are fresh out of the oven, you may want to use a small bowl, round cookie cutter, or glass to scoot the cookies into a perfect circle.
Step 8
Place the cookies on a wire rack to finish cooling, then enjoy!
Additional Tips
For a fun twist on these cookies, make a peppermint hot cocoa version by adding 1/2 tsp of peppermint extract and sprinkle with crushed candy cane pieces!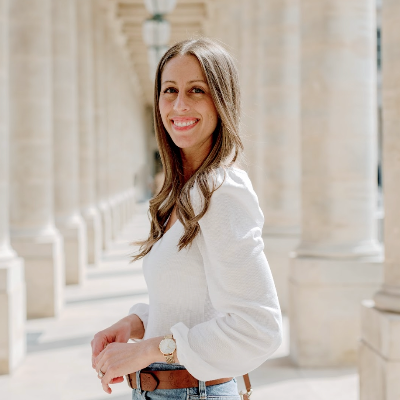 Meet the Chef:
Danielle Rodgers
@frenchvanillabaker
Danielle is a food photographer, home baker, and the creator behind French Vanilla Photography & Bakery. She has a passion for creating elevated desserts that are still simple and approachable for the everyday busy baker.