Ingredients
For the Red Velvet Blondies
1/2 cup (113 g) Unsalted butter, melted and cooled
1 cup (220 g) packed Domino® Dark Brown Sugar
1/4 cup (50 g) Domino® Golden Sugar
1 Egg, room temperature
2 teaspoons (10 ml) Vanilla
1/2 teaspoon (2 g) Salt
1 cup (120 g) All-purpose flour
1/4 cup (20 g) Unsweetened cocoa powder
2 teaspoons (10 ml) Red gel food coloring
For the Cream Cheese Frosting
1/2 cup (113 g) Cream cheese, room temperature
1/2 cup (113 g) Unsalted butter, room temperature
2 cups (240 g) Domino® Powdered Sugar
1 teaspoon (5 ml) Vanilla extract
Pinch Salt
Sprinkles (optional)
Prep Time: 15 minutes / Cook Time: 20 minutes / Yields: 16 squares
Step 1
Preheat the oven to 350°F. Line a square 8x8-inch baking pan with parchment paper. Set aside.
Step 2
Prepare the Red Velvet Blondie Batter: In a large bowl, whisk together the melted butter, Domino® Dark Brown Sugar, and Domino® Golden Sugar until well blended. The mixture will resemble wet sand. Add in the egg and vanilla and whisk to combine. Add in the red food coloring and mix well until the batter is a uniform color. Add in the flour, cocoa powder, and salt, stirring with a wooden spoon until just blended and no dry flour spots appear.
Step 3
Bake: Scrape batter into the prepared baking pan and press gently into corners to form an even layer. Bake in the preheated oven for 18-20 minutes until the edges are golden brown and the middle looks just set. Cool blondies completely before frosting.
Step 4
Prepare Cream Cheese Frosting: In a large bowl, beat together the butter and cream cheese with an electric or stand mixer until smooth and creamy. With the mixer on low speed, add the sifted Domino® Powdered Sugar, 1/2 cup at a time, until smooth and creamy. Add in the vanilla extract and a pinch of salt and beat until well blended.
Step 5
Frost: Once the blondies have cooled completely, top with the frosting and smooth the top to create and even layer. Add sprinkles, if desired. Cut into 16 squares or use festive cookie cutters to cut out shapes and serve.
Additional Tip
Store frosted blondies in the refrigerator for up to 5 days. Leave at room temperature for at least 30 minutes before serving.
Blondies and frosting can be made ahead of time. Wrap blondies tightly in plastic wrap and store at room temperature up to 3 days. Cover frosting tightly with plastic wrap or a lid and store in the fridge up to 5 days before using.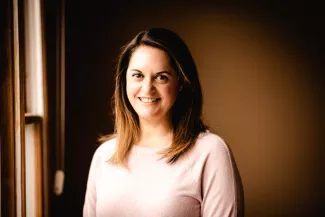 Meet the Chef:
Kimberlee Ho
@kickassbaker
Kim is the blogger behind Kickass Baker. She is a home baker, wife, mom of two beautiful girls, and an active seeker of a life in balance. Kim shares approachable baking recipes and tips for busy families like her own. Follow along at kickassbaker.com!