For the vanilla cupcakes:
2 1/2 cups (325g) All-purpose flour
2 1/2 tsp Baking powder
1/2 tsp Salt
3/4 cup Unsalted butter
1 1/2 cups Domino® Golden Sugar
1/4 cup Vegetable oil
1 tbsp Vanilla extract
4 large Eggs
1 1/4 cups Milk
For the almond buttercream frosting:
2 cups Unsalted butter
8 cups Domino® Powdered Sugar
2 tsp Almond extract
3-5 tbsp Heavy whipping cream
Salt to taste
Red and blue gel icing color as needed
Prep Time: 1 hour 30 minutes / Cook Time: 30 minutes / Yields: 24 Cupcakes
Vanilla Cupcakes
---
Step 1
Preheat oven to 350°F (176°C) and prepare a cupcake pan with cupcake liners.
Step 2
Combine the flour, baking powder and salt in a medium sized bowl and set aside.
Step 3
Add the butter, Domino® Golden Sugar, oil and vanilla extract to a large mixer bowl and beat together until light in color and fluffy, about 3-4 minutes. Do not skimp on the creaming time.
Step 4
Add the eggs one at a time, mixing until mostly combined after each. Scrape down the sides of the bowl as needed to be sure all ingredients are well incorporated.
Step 5
Add half of the dry ingredients to the batter and mix until mostly combined. Slowly add the milk and mix until well combined. The batter will look curdled, but that's ok. Add the remaining dry ingredients and mix until well combined and smooth. Scrape down the sides of the bowl as needed to be sure all ingredients are well incorporated. Do not over mix the batter.
Step 6
Fill the cupcake liners about 3/4 full and bake for 15-18 minutes or until a toothpick inserted into the center comes out clean.
Step 7
Remove cupcakes from the oven and place on a cooling rack to cool.
Almond Buttercream Frosting
---
Step 1
Add the butter to a large mixer bowl and beat until smooth.
Step 2
Add about half of the Domino® Powdered Sugar and mix until smooth and well combined.
Step 3
Add the almond extract and 2 tablespoons of the cream to the frosting and mix until well combined.
Step 4
Add the remaining powdered sugar and mix until smooth. Add additional cream as needed to get the right consistency. Add salt to taste.
Step 5
Divide the buttercream evenly into three bowls, about 2 cups each. Leave one white, and color one with red gel icing color and color the other with blue gel icing color
Assemble the cupcakes
---
Step 1
Frost each cupcake with a buttercream rosette design. You'll need six that are blue, nine that are white and nine that are red.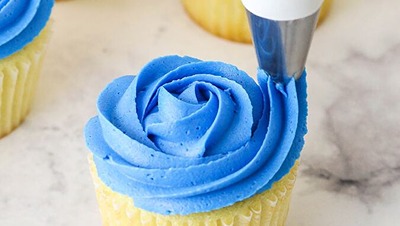 Step 2
Pipe four "stars" onto each of the blue frosted cupcakes.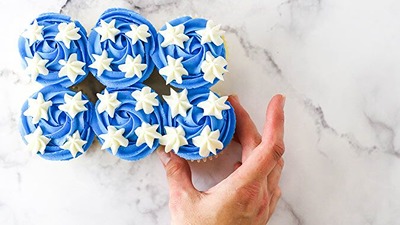 Step 3
Assemble the cupcakes in 4 rows. Going left to right, the top row should have three blue cupcakes, then three red. The second row should have three blue cupcakes, then three white cupcakes. The third row should be all red – six total across. The fourth row should be all white – six total across. Assemble your cupcakes on the table you'll serve them on, or on a large platter so that you can transport them.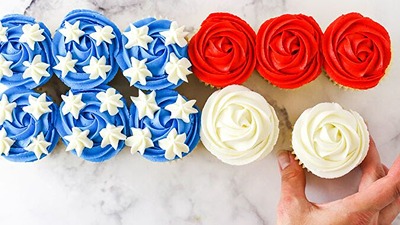 Step 4
Cupcakes should be kept at room temperature for about 24 hours, but then should be refrigerated. They should keep well for about 3-4 days. Best served at room temperature.
Chef's Tip
Make Frosting Ahead: The frosting can easily be made ahead. It lasts well in the fridge for about a week or frozen for up to 3 months. If you make it ahead and refrigerate it, you'll just need to bring it back to room temperature and give it a good stir before using it.
Make Cupcakes Ahead: The cupcakes can definitely be made the day before frosting and serving. I'd keep them in an air-tight container at room temperature.
Use Gel Food Coloring: Gel food coloring is generally more pigmented than liquid food coloring, so if you only have the liquid kind, use red instead of pink. Add coloring until you're satisfied with the shade of your batter.
Frost the Perfect Cupcake: If you aren't really sure how to pipe a rosette, check out my How To Frost Cupcakes tutorial for pictures and video.
Serving Platter: The "cake" can be assembled right on a table or on a large platter. If you don't have a platter that's large enough, a sheet pan would work.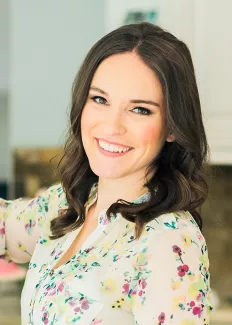 Meet the Chef:
Lindsay Conchar
@lifeloveandsugar
Lindsay is the recipe developer and blogger behind www.lifeloveandsugar.com. She loves desserts of all kinds, but has a soft spot for cake and cheesecake. On her site, she shares recipes of all kinds with a focus on desserts that are fun and impressive, but still approachable. Be sure to check out her ever-growing list of recipes and tutorials.