Chicken Marinade
4 pieces Chicken Leg Skin I
1 Tsp Granulated Garlic Powder
1 Tsp Granulated Onion Powder
2 Tsp Paprika
1 Tsp Cumin Powder
1/2 Tsp Salt
2 Tbsp Olive Oil
BBQ Sauce
24 Oz Pure Tomato Sauce
2/3 Cup Water
1 cup Domino® Dark Brown Sugar
1 Tbsp Granulated Garlic Powder
1 Tbsp Granulated Onion Powder
1 Tbsp Hot Paprika
1 Tbsp Chili Powder
2 Tsp or to taste Salt
1 Tsp Mustard
1 Tsp Black Pepper
1/2 Tsp Ginger Powder
1/2 Tsp Cayenne Powder
1 Tsp Cumin
1 Tbsp Worcestershire Sauce
3 Tbsp Honey
1 Thai Chili Pepper
Prep Time : 2 hours / Cook Time : 45 minutes / Yields: 4 Chicken Legs
Step 1
Combine all ingredients for the marinade. Marinate the chicken legs in a bowl and set aside for 1-2 hours.
Step 2
For the barbecue sauce, combine all ingredients in a saucepan and bring it to a boil. Reduce to medium low heat and simmer for 30 minutes, stir occasionally.
Step 3
Air fry the marinated chicken at 275 degrees for 40 minutes, flipping them after 20 minutes.
Once chicken is finished, brush on the BBQ sauce. Air fry for an additional 5 minutes.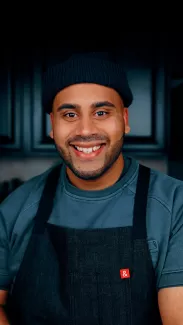 Meet the Chef:
Shihan Chowdhury
@chillipeppercooks
Shihan Chowdhury is a social media influencer, tech, and marketing entrepreneur. He's the face behind the social media brand "chilipeppercooks", which has over 800k followers combined. On chilipeppercooks' channels, he posts videos of simple, tasty recipes with the optional, but very necessary Thai chili topping. His recipe videos have caught the attention of some of the top food brands in the world, such as Zwilling, Mountain Dew, Betty Crocker.