Ingredients
1/2 cup (1 stick) Butter (melted)
2/3 cup Domino® Golden Sugar
2 Large Eggs
1 and 1/4 cups Buttermilk
1 cup Cornmeal
1 cup Flour
1/2 tsp Baking soda
1/4 tsp Salt
For the Sweet Butter
1/2 cup (1 stick) Butter (room temperature)
1/2 tsp. Vanilla Extract
1 tsp. Cinnamon
3-4 tbsp. Domino® Powdered Sugar
Prep Time: 18 minutes / Cook Time: 25 minutes / Yields: 12 servings
Step 1
Preheat and Prepare: Preheat your oven to 375°F (190°C). Grease your pan with a little butter or cooking spray and set them aside.
Step 2
In a large mixing bowl, combine the all-purpose flour, cornmeal, Domino® Granulated Sugar, baking powder, and salt. Stir until well mixed.
Step 3
In another bowl, whisk together the eggs, buttermilk and melted butter. Mix until the wet ingredients are well combined, and the mixture is smooth.
Step 4
Pour the wet mixture into the dry ingredients and stir until just combined. Be careful not to overmix; a few lumps are okay.
Step 5
Carefully pour the cornbread batter into the greased pan, filling about 2/3 full. Place the pan in the preheated oven and bake for about 20-25 minutes, or until the cornbread turns golden brown and a toothpick inserted into the center comes out clean
Step 6
Text: Allow the cornbread to cool for a few minutes, then gently remove it and cut into squares.
For the Sweet Butter
---
Step 1
Combine all of the ingredients in a medium mixing bowl. Mix the butter using a hand mixer or stand mixer until the butter is smooth and the ingredients are mixed in very well. This will take about 2-3 minutes. Serve the cornbread with a dollop of sweet butter.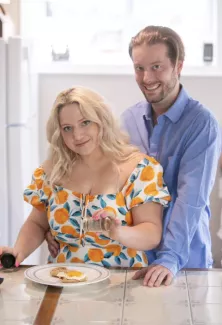 Meet the Chef:
Emma and Sean Litza
Meet Emma and Sean Litza, the culinary couple behind the six-year-old food blog "Our Countertop" based in Chicago. Married in 2022, they have seamlessly blended their love for each other with their passion for approachable recipes. Specializing in dishes that demystify complex cooking, their blog is a haven for both seasoned cooks and kitchen novices. Beyond their countertop, Emma and Sean take their readers on culinary adventures, sharing vivid accounts of their travels through food, highlighting local gems and hidden treasures. "Our Countertop" is more than a blog; it's a community where followers join the couple on a global gastronomic journey, celebrating the joy of cooking and savoring delicious moments. You can find them across all social media at @ourcountertop