Sweet Onions
2 tbsp Olive Oil
2 medium sized Onions
1/3 cup Domino® Dark Brown Sugar
1/2 cup Beef Stock
1 tbsp Worcestershire Sauce
1/2 tsp Salt
1/2 tsp Pepper
Burgers
1 lb 80/20 Ground Beef
1/2 tsp Salt
1/2 tsp Pepper
1 slice per burger Cheese
2 Pieces of Turkey Bacon
Spicy Fusion Sauce
1 tbsp Avocado Oil
1 tbsp Ketchup
1 tbsp Sour Cream
1 tbsp Mustard
1 tsp Thai Chili Peppers
Prep Time: 30 minutes / Cook Time: 15 minutes / Yields: 2 burgers
Sweet Onions
---
Step 1
Heat a large skillet over medium heat. Add olive oil, swirling to coat pan. Add onions and brown sugar. Stir to evenly coat onions. Cook for about 45 minutes, stirring frequently until onions are cooked down, tender and a deep golden brown color.
Step 2
Once cooked down, stir in beef stock and Worcestershire sauce, increase heat to medium high. Cook until the liquid is absorbed. Season with salt and pepper.
Burgers
---
Step 3
Meanwhile, in a large bowl add the ground beef and form into 4 equal sized balls. Preheat pan to medium high heat. Place balls on the pan, smash down and cook for 3-4 minutes per side. Sprinkle salt and pepper on both sides. Place slices of cheese on each burger during the last 2 minutes of cooking.
Spicy Fusion Sauce
---
Step 4
Make the sauce by combining the ketchup, sour cream, mustard and Thai chili peppers. Mix well
Step 5
Cook the turkey bacon in the oven at 400 degrees F for 5 mins each side.
Assemble
---
Step 6
Put the sauce on the buns, add the burger patties then the turkey bacon and top with the onions.
Additional Tips
If you would like the buns toasted, place them on the pan during the last 2 minutes of cooking as well.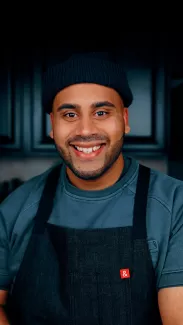 Meet the Chef:
Shihan Chowdhury
@chillipeppercooks
Shihan Chowdhury is a social media influencer, tech, and marketing entrepreneur. He's the face behind the social media brand "chilipeppercooks", which has over 800k followers combined. On chilipeppercooks' channels, he posts videos of simple, tasty recipes with the optional, but very necessary Thai chili topping. His recipe videos have caught the attention of some of the top food brands in the world, such as Zwilling, Mountain Dew, Betty Crocker.