For the sponge cake
6 large eggs, room temperature
1 cup Domino® Golden Sugar
1/4 cup whole milk, room temperature
1/4 cup vegetable oil
1 + 1/4 cups cake flour
1 teaspoon vanilla extract
For the whipped cream filling
4 oz mascarpone cheese, cold
1 cup heavy whipping cream, cold
1/2 cup Domino® Powdered Sugar, sifted
1 teaspoon vanilla extract
For the coffee soak
1/4 cup freshly brewed and cooled coffee
1 tablespoon Domino® Light Brown Sugar
For assembly/decorating
1-2 tablespoon Domino® Powdered Sugar
1-2 tablespoon cocoa powder
Prep Time : 1 hour 30 minutes / Bake Time : 12 minutes / Yields: 10
Sponge Cake
---
Step 1
Preheat the oven to 350°F (180°C) and prepare a 17x12 inch baking pan by lining it with parchment paper. Lightly grease the parchment paper and the sides of the baking sheet with oil.
Step 2
In the bowl of a stand mixer, whisk the sugar and eggs for 10 minutes on high speed until they have doubled in size and are foamy.
Step 3
Lower the speed of the mixer and add the milk and vegetable oil for just 30 seconds.
Step 4
Slowly and carefully add the cake flour to the whipped eggs at the lowest speed.
Step 5
Pour the batter into the prepared pan and spread it evenly with an offset spatula.
Step 6
Bake for about 12-13 minutes or until a toothpick inserted into the center of the cake comes out clean.
Step 7
Remove the cake from the oven and let it cool for 2 minutes.
Step 8
Heavily dust the top of a clean towel with powdered sugar and then invert the cake onto the towel. Remove the parchment paper, dust the top of the cake with powdered sugar again, and gently roll up the sponge cake, with the towel. Place the rolled cake on a wire rack to cool.
Coffee Soak
---
Step 1
Mix the brewed coffee and light brown sugar is fully dissolved. Set aside.
Whipped Cream Filling
---
Step 1
In a medium bowl with a hand mixer, mix mascarpone cheese, and powdered sugar until light and fluffy, about 2 minutes. Add cold heavy whipping cream slowly while mixing on high speed, about 2 minutes more.
Assembly
---
Step 1
Gently and very slowly unroll the cooled cake. Use a pastry brush to gently brush the sponge with the coffee soak.
Step 2
Spread half of the filling on top with a spatula to the edges.
Step 3
Gently roll the cake back up without the towel this time. Roll it slowly and carefully place it on a board. Wrap the cake and refrigerate it for at least 1 hour.
Step 4
Using a small offset spatula, use the remaining mascarpone filling to cover the outside of the cake. You may decorate according to your desire at this point.
Step 5
Dust the Tiramisu roll generously with cocoa powder.
Additional Tips
Dust the Tiramisu roll generously with cocoa powder.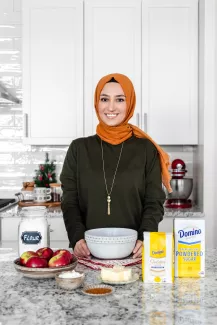 Meet the Chef:
Esra Mese
Esra Mese is a food photographer and videographer who loves to capture incredible photos of food with delicious recipes to match.