Pie Crust
1 1/4 cup all-purpose flour
1 tablespoon Domino® Golden Sugar
1/2 teaspoon sea salt
1/2 cup unsalted butter, cubed and frozen
2 - 3 tablespoons ice-cold water
Filling
1 1/3 cup Domino® Light Brown Sugar
3 tablespoons fine cornmeal
2 teaspoons ground cinnamon
1/2 teaspoon sea salt
2 large eggs, room temperature
4 large egg yolks, room temperature
3 tablespoons unsalted butter, melted
2 teaspoons vanilla extract
1 cup heavy cream, room temperature
Topping
Prep Time: (also requires 1 hour waiting time) 35 minutes / Cook Time: 55 minutes / Yields: 1 9-inch pie
Step 1
Start making the pie crust. Add the flour, Domino® Golden Sugar, and salt to a food processor and pulse once or twice to combine.
Step 2
Add the frozen, cubed butter to the food processor and pulse until it resembles large crumbs.
Step 3
Add two tablespoons of ice-cold water and pulse 3 - 4 times. Check the mixture. It should stick together when pressed. If it does not, or feels very dry, add another tablespoon of water and pulse another 2 - 3 times. Check the mixture again, if you are in a very dry environment, you may need an additional 1/2 tablespoon.
Step 4
Spread a sheet of plastic wrap on a flat surface and turn the pie crust mixture on it. Use the plastic wrap to gently press the mixture together and shape into a disc. Wrap tight and chill for 30 minutes.
Step 5
Flour a flat surface lightly, then unwrap the pie disc before lightly dusting the top with flour.
Step 6
Roll the disc into a large round that is about 1/4-inch thick.
Step 7
Transfer the crust to your pie pan. Fold any excess dough into the back of the crust. Crimp the crust, if desired.
Step 8
Freeze the pie pan for at least 30 minutes. Preheat the oven to 425°F while the pie crust chills.
Step 9
Make the filling while the crust is in the freezer.
Step 10
Whisk together the Domino® Light Brown Sugar, cornmeal, cinnamon and salt together. Add in the beaten eggs, melted butter, vanilla extract, and heavy cream. Whisk well and set aside.
Step 11
Remove the pie crust from the freezer and top with aluminum foil and pie weights. Par-bake for 20 minutes.
Step 12
Remove the crust from the oven and remove the aluminum foil with the weights. Pour in the filling and bake for 30 - 40 minutes, or until the edges are set and the center is only slightly jiggly.
Step 13
Allow to cool completely before topping with whipped cream.
Chef's Tips:
For added depth of flavor, add 2 more tablespoons of butter and brown until it smells nutty before adding it to the filling.
Top the finished pie with flaky sea salt for a salty-sweet finish.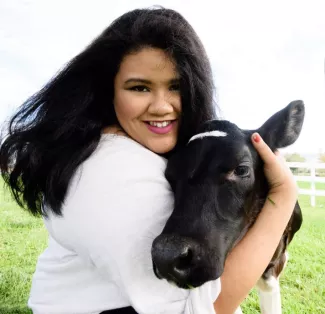 Meet the Chef:
Amanda Powell
@acookienameddesire
Amanda is the recipe developer and food photographer behind A Cookie Named Desire. Her love of cooking and baking developed slowly since she was a child and eventually blossomed into something more while living in London and seeing the faces of her friends light up when enjoying her baked goods. She started A Cookie Named Desire as a way to spread more joy and sweetness. She hopes her recipes can help people create happy memories and traditions in the kitchen with the people they love and care for.