For the cake
1 cup, packed Domino® Dark Brown Sugar
1 cup All-purpose flour
5 tablespoons Dutch-process cocoa powder
3/4 teaspoon Baking powder
1/2 teaspoon Baking soda
1/2 teaspoon Kosher salt
1 Large egg
1 Large egg yolk
2 teaspoons Pure vanilla extract
1/4 cup Vegetable oil
1/2 cup Buttermilk
1/2 cup Boiling water
For the frosting
2 Large egg whites
3/4 cup, packed Domino® Light Brown Sugar
1/4 teaspoon Cream of tartar
1 pinch Kosher salt
3 tablespoons Water
1/2 teaspoon Pure vanilla extract
For topping
Chocolate curls, chopped chocolate, cocoa powder, or sprinkles
Prep Time: (includes cake and frosting)40 minutes / Cook Time: 30 minutes / Yields: 12 large slices
Make the cake
---
Step 1
Preheat the oven to 350°F. Grease an 8x8x2-inch pan with nonstick cooking spray or softened butter. Line with parchment paper and grease again.
Step 2
To make the cake, add the Domino® Dark Brown Sugar, flour, cocoa powder, baking powder, baking soda, and salt to a large mixing bowl and whisk to combine.
Step 3
Add the egg, yolk, vanilla, oil, and buttermilk and whisk until smooth and combined.
Step 4
Add the boiling water and whisk until smooth.
Step 5
Pour the batter into the prepared pan and bake for 20 to 25 minutes, rotating at the halfway point. The cake is ready when a toothpick inserted in the middle comes out with a moist crumb or two. Let cool completely in the pan.
Prepare the frosting
---
Step 6
Place a large heatproof bowl over a saucepan of simmering water over medium-high heat. Do not allow the bottom of the bowl to touch the water. Add the egg whites, Domino® Light Brown Sugar, cream of tartar, salt, and water.
Step 7
Using an electric hand mixer, beat the egg white mixture on high speed until stiff and glossy, about 7 minutes.
Step 8
Remove the bowl from the saucepan of hot water, add the vanilla, and continue beating for another 2 minutes.
Step 9
Generously frost the cake – either in the pan – or invert it on to a serving platter first. If you wish, you can decorate your cake with chocolate curls, chopped chocolate pieces, cocoa powder, or chocolate sprinkles!
Additional Tip
The frosted cake is best served within a few hours as the frosting dries and weeps pretty quickly.
Be sure to vigorously whisk the cake ingredients together before transferring the batter to the prepared pan and do not over bake the cake. Pull it from the oven when there is still a moist crumb or two on your toothpick. Make sure you whisk your whites until stiff, glossy peaks form or your frosting will be droopy and loose. If you do not have a hand mixer, place the bowl of your stand mixer over the pot of simmering water and whisk by hand until the mixture is warm to the touch, then remove the bowl and place on your stand mixer and whisk until stiff and glossy peaks form.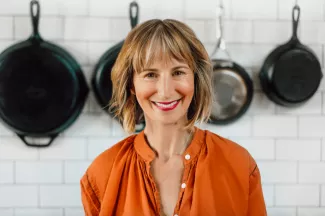 Meet the Chef:
Jessie Sheehan
@jessiesheehanbakes
Jessie Sheehan is a cookbook author, recipe developer, and baker. She is the author of The Vintage Baker (one of the Washington Post's best cookbooks of 2018 and beloved by Oprah and Nigella) and the co-author of Icebox Cakes (both published by Chronicle Books). She has developed recipes for many cookbooks, besides her own, and has contributed recipes, written and/or created video content for many publications. Her easy-peasy baking recipes can be found at jessiesheehanbakes.com and she can be found at @jessiesheehanbakes on Instagram and on TikTok.