Ingredients
For pancakes:
1/2 Ripened banana
1 cup/100 grams Oat flour
1 tbsp Baking powder
1 pinch of Salt
1 tbsp Domino® Golden Sugar
2/3 cup/160 mL Plant-based or dairy milk
For Topping:
2 tbsp Plant-based or dairy based butter
2/3 cup Domino® Golden Sugar (for dusting)
1 1/2 tsp Cinnamon (for dusting)
Prep Time : 5 minutes / Cook Time : 25 minutes / Yields: 1 serving (5-6 pancakes)
Pancakes:
---
Step 1
Put a nonstick skillet on medium heat. Cover with a nonstick spray.
Step 2
Mash the banana. In a large bowl, whisk together the oat flour, baking powder, salt, Domino® Golden Sugar, milk, and banana. Let this mix sit for about 5 minutes to thicken.
Step 3
Using an ice cream scoop or a spoon, portion out the pancakes and cook for about 2 minutes on each side, or until golden brown.
Topping:
---
Step 4
Melt 2 tbsp of butter in a small dish. On a large plate, sprinkle all the Domino ® Golden Sugar and the cinnamon. Whisk to combine.
Step 5
Brush each pancake with the butter, then place face down in the cinnamon sugar mixture. Lightly press until there is a thick cinnamon sugar coating on top.
Step 6
Stack them up and serve immediately!
Chef's Tip
No brush on hand? No problem! Simply dip the pancakes very quickly in the melted butter. This will cover them quickly and help all the sugar and cinnamon stick to the top!
If you prefer, you can sub plant-based milk and butter with dairy-based.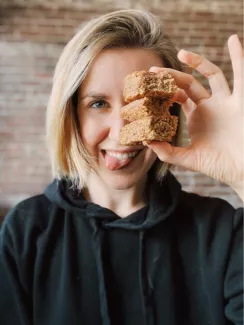 Meet the Chef:
Justine Doiron
@justine_snacks
Justine Doiron (@justine_snacks) is a food blogger, video editor and recipe developer in NYC. She's most well known for her multiple viral recipes on TikTok and quick, creative and easy recipes. Justine specializes in simple, feel-good food that everyone can enjoy, from easy pancakes all the way to show-stopping snacks. Her work has been featured on GMA, Today.com, Buzzfeed Food, Well+Good and Real Simple, to name a few.