Pavlovas
5 egg whites
1 1/4 cup (250 grams) Domino® Granulated Sugar Easy Baking Tub
A few drops Food coloring of choice
2 tbsp cornstarch
2 tsp lemon juice
1/2 tbsp lemon zest
Lemon Curd
6 tbsp (85 grams) unsalted butter, room temperature
2/3 cup (133 grams) Domino® Golden Sugar
4 large eggs
1/2 cup (120 ml) lemon juice
6 tbsp lemon zest
To decorate
1 cup mixed berries (blueberries, raspberries, strawberries)
1/4 cup Toasted coconut flakes
1/4 cup Domino® Powdered Sugar
Prep Time : 30 minutes / Cook Time: 1 hour and 45 minutes / Yields: 12 mini pavlovas
For the pavlovas
---
Step 1
Pre-heat the oven to 250 Fahrenheit. Line two baking sheets with parchment paper. Set aside.
Step 2
Whip the egg whites on medium speed with an electric mixer for 1 minute. Gradually add the Domino® Granulated Sugar Easy Baking Tub to the mixer.
Step 3
Once all the sugar has been added, raise the speed to high and whip for 9 minutes. Total whipping time should be 10 to 12 minutes. Towards the end of the whipping time, around minute 8, add the food coloring to the bowl. The meringue should have stiff peaks, and should look glossy and shiny.
Step 4
Add the cornstarch, lemon juice, and lemon zest to the meringue and mix with a spatula until incorporated.
Step 5
Transfer the meringue to two 16" piping bags fitted with an open star tip.
Step 6
Pipe the meringue into 3 1/2" inch nests, leaving some space in the center at the top so you can fill it later.
Step 7
Bake in the pre-heated oven for 1 hour. Turn the oven off and leave the pavlovas in there for 30 minutes. Let them cool down before proceeding with the filling. The unfilled pavlovas can be stored for up to 5 days in an air-tight container at room temperature.
For the lemon curd
---
Step 1
Beat the butter with an electric mixer for about 1 minute at medium speed.
Step 2
Add the sugar to the bowl and beat with the butter for 2 minutes.
Step 3
Add the eggs, one at a time to the bowl, and mix until combined.
Step 4
Add the lemon juice and zest, and mix until combined. You may notice the mixture separating at this point. It's ok, it will come together later once cooked.
Step 5
Transfer the mixture to a small saucepan with a heavy bottom, and cook at medium-low heat, stirring non-stop, for about 10 to 15 minutes, until the curd reaches 170ºF. If you don't have a thermometer, the curd should be thick enough to heavily coat the back of a spoon.
Step 6
Remove the curd to a bowl and let it cool down, then chill in the fridge for at least 2 hours.
To assemble
---
Step 1
Spoon the curd in the center of the pavlovas. Top with the mixed berries and with the toasted coconut. You can also top the pavlovas with a dusting of powdered sugar before serving.
Additional Tips
For the curd: Don't stop stirring the curd at any point, and don't cook at high heat, because that will make the eggs curdle and the curd will taste like scrambled eggs.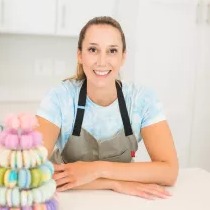 Meet the Chef:
Camila Hurst
Camila Hurst was born and raised in Brazil and has been living in the US since 2011. She is the author of two cookbooks, and the creator of the blog Pies and Tacos.