Fudge Brownies
3/4 cup all-purpose flour
3/4 cup cocoa powder
1/2 teaspoon sea salt
13 tablespoons unsalted butter
3/4 cup Domino® Golden Sugar
1/2 cup Domino® Light Brown Sugar
2 large eggs, room temperature
1 large egg yolk, room temperature
1 teaspoon pure vanilla extract
Ganache
1 1/2 cups chocolate chips
3/4 cup heavy cream
1/4 cup sprinkles
Prep Time: 15 minutes / Cook Time: 25 minutes / Yields: 16 brownies
Step 1
Preheat the oven to 350F and line an 8x8 baking pan with parchment paper.
Step 2
Add the flour, cocoa powder, and salt together in a bowl. Stir until combined, then set aside.
Step 3
Add the butter to a saucepan and heat on medium until fully melted. Turn off the heat and remove from the stove. Add in the Domino® Golden Sugar and Domino® Light Brown Sugar and stir until well-combined.
Step 4
Allow the butter to cool until it is room temperature and whisk in the eggs and egg yolk. Stir in the vanilla until well-combined.
Step 5
Pour the flour mixture into the butter mixture and stir until there are no streaks of flour. Give it a quick 30-second whisk after fully combined.
Step 6
Pour the batter into the baking pan and bake for 25 minutes. Remove and allow to cool completely.
Step 7
Add the chocolate chips and cream to a small saucepan and heat on medium-low. Stir until half of the chocolate is melted. Remove from heat, and stir slowly until the chocolate is melted through.
Step 8
Pour the ganache over the cooled brownies. Top with sprinkles.
Step 9
Refrigerate the brownies for about 3 hours for the ganache to set before cutting.
Chef's Tips:
You can use your favorite mini candies in place of sprinkles. Add a dollop or two of salted caramel or peanut butter into the ganache for a fun twist.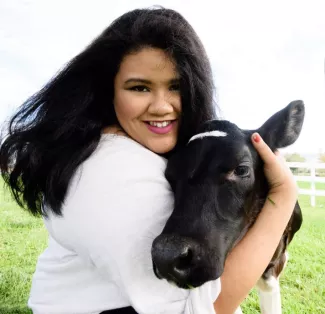 Meet the Chef:
Amanda Powell
@acookienameddesire
Amanda is the recipe developer and food photographer behind A Cookie Named Desire. Her love of cooking and baking developed slowly since she was a child and eventually blossomed into something more while living in London and seeing the faces of her friends light up when enjoying her baked goods. She started A Cookie Named Desire as a way to spread more joy and sweetness. She hopes her recipes can help people create happy memories and traditions in the kitchen with the people they love and care for.