Ingredients
For Loaf Cake:
2 cups All purpose flour
1 tsp Baking powder
1 tsp Baking soda
1 tsp Kosher salt
2 tablespoons Poppy seeds
Lemon juice and zest from 2 lemons
1/2 cup Sour cream
1/4 cup Milk
1 cup Domino® Golden Sugar
3 Large eggs
2/3 cup Vegetable oil
For Lavender Glaze:
5 TBS Milk
1 TBS Dried lavender buds
3/4 cup Domino® Powdered Sugar
*optional: purple food coloring OR blueberries
Prep Time: 15 minutes / Cook Time: 1 hour / Yields: 1 8-Inch Loaf Cake
Prepare Loaf Cake
---
Step 1
Preheat oven to 350 degrees F. Grease and line an 8 inch loaf pan with parchment paper.
Step 2
In a large bowl, whisk together flour, baking powder, baking soda, salt, and poppy seeds. In a separate bowl, whisk together lemon zest, juice, sour cream, milk, Domino® Golden Sugar, eggs, and oil.
Step 3
Pour the dry ingredients into the wet mixture and mix until just combined. Do not overmix. Pour into the loaf pan and bake for about 55-65 mins, until a cake tester or skewer inserted comes out clean.
Step 4
Let cake cool in pan on top of a baking rack before removing.
Step 5
While the cake is baking prepare the lavender glaze.
Prepare Lavender Glaze
---
Step 6
Combine milk and lavender buds in a small saucepan. Over medium heat, bring milk to almost a boil, when the tiny bubbles on the sides of the saucepan are just beginning to form. Stir well and remove from heat.
Step 7
Pour mixture into a heat safe bowl and let cool completely.
Step 8
Strain the milk through a fine mesh sieve.
*Optional: this glaze will turn out white/clear. There are two ways to make the glaze purple—purple food coloring or naturally dye it with the juice from mashed blueberries. The latter will also give the glaze a hint of beautiful tartness from the blueberries that go perfectly with this loaf!
Step 9
Once the loaf is completely cooled, you can prepare the glaze:
Mix the lavender infused milk with the Confectioner's Sugar until desired pourable consistency.
Add more sugar for thicker glaze and more milk for thinner.
Pour the glaze evenly over the loaf, let the glaze set for a few minutes before slicing and enjoying!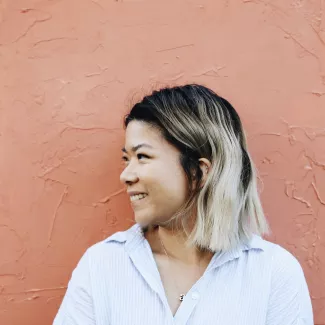 Meet the Chef:
Angela Chung
@momentsofsugar
Angela is a home baker and food photographer passionate about pies, chocolate, and sprinkles! Her ideal day is any Saturday in October, where you'll find her doodling in her recipe journal, waiting for hand pies to come out of the oven, with an iced coffee planted next to her. Find her creations on her Instagram and blog!
ORDER DOMINO® RECIPE INGREDIENTS ONLINE
Find out how to purchase the ingredients featured in this recipe in five easy steps. Once you are ready to order, the ingredients are to be available for delivery or pickup at your preferred local grocery retailer.
Get Ingredients Now