For the cake:
4 Large eggs
1/2 cup Domino® Golden Sugar
1/4 teaspoon Kosher salt
2 tablespoons Grated lemon zest (about 2 lemons)
2/3 cup All-purpose flour
For the filling + topping:
1/2 cup Full fat cream cheese
2/3 cup Heavy whipping cream
2 tablespoons + more for dusting Domino® Powdered Sugar
2 cups, separated Fresh raspberries
Prep Time: 30 minutes / Bake Time: 10 minutes / Yields: 1 swiss roll, serving 8
Step 1
Preheat the oven to 400°F. Spray a 10x15-inch jelly roll pan with non-stick baking spray. Line the bottom of the pan with parchment paper. Set aside.
Prepare the sponge cake:
---
Step 2
Beat the eggs and Domino® Golden Sugar with an electric mixer on medium speed for 2 minutes. Add salt and lemon zest and increase speed to medium-high. Continue to beat until thick and pale yellow, 8-10 additional minutes.
Step 3
Sift the flour into the batter. Use a large, rubber spatula and fold the flour into the batter until no streaks remain. Pour the batter into the jelly roll pan and use an angled spatula (or butter knife) to smooth the batter into the cake pan in an even layer. Transfer the pan to the oven and bake until springy to the touch, and golden on top, 8-10 minutes. Remove the pan from the oven.
Step 4
Dust a kitchen towel with Domino® Powdered Sugar. Flip the cake onto a kitchen towel, with the parchment paper side up. Carefully peel the parchment paper off of the cake. Roll up cake and towel, starting from a short side. Let cool completely on a wire rack. While the cake is cooling, prepare the filling.
Prepare filling:
---
Step 5
Beat the cream cheese, heavy cream, and 2 tablespoons of Domino® Powdered Sugar in a bowl on medium speed until medium peaks form. Roughly chop 1 cup of the fresh raspberries.
Assemble:
---
Step 6
Unroll the cooled cake. Spread the cream cheese filling evenly over the cake and sprinkle the chopped raspberries evenly on top of the filling. Carefully reroll the cake, using the towel to help to roll it tightly. Place the cake seam side down on a serving platter. Top with whipped cream, and the remaining one cup of fresh raspberries. Sprinkle a dusting of Domino® Powdered Sugar on top and refrigerate until ready to serve.
Chef's Tip
This cake is best the day it's made but can be refrigerated for up to three days.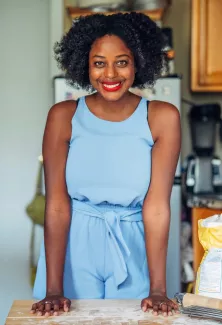 Meet the Chef:
Vallery Lomas
@FoodieInNewYork
Author of the forthcoming Life Is What You Bake It and host of Vallery Bakes Your Questions, a Food Network Digital Original Show, this lawyer-turned-foodie built her platform from her popular Instagram and blog @FoodieInNewYork and is now a contributor to NYT Cooking and more.