Ingredients
Crust
2 tablespoons Melted butter
8 full sheets Graham crackers
Pumpkin Cheesecake Filling
8 ounces Cream cheese, room temperature
1/2 cup Domino® Golden Sugar
1 Egg, room temperature
1 tsp. Vanilla extract
1 tsp. Pumpkin pie spice
3/4 cup Canned pumpkin puree
Prep Time: 10 minutes / Cook Time: 15-20 minutes / Yields: 12 cheesecakes
Crust
---
Step 1
Preheat oven to 325F.
Step 2
Prepare a 12-count muffin tin with 12 foil cupcake wrappers. Spray each wrapper with nonstick spray and set aside.
Step 3
Add the graham crackers to a food processor and process the crumbs until they are finely ground.
Step 4
Add crumbs to a medium-sized mixing bowl with melted butter and combine.
Step 5
Firmly press crumbs evenly into each cupcake liner pressing each down to create a tightly packed layer.
Step 6
Bake crust for 10 minutes at 325F. Once done, remove from the oven, and set aside.
Pumpkin Cheesecake Filling
---
Step 1
In a large bowl, add cream cheese, Golden Sugar, egg, vanilla extract, and pumpkin spice. Beat with a hand mixer until smooth (about 3 minutes). Add in the pumpkin puree and mix until fully combined.
Step 2
Add filling to each muffin tin crust evenly.
Step 3
Bake for 18-20 minutes, or until tops are fully set.
Step 4
Allow to cool for one hour at room temperature.
Chef's Tip
Add a dollop of fresh whipped cream (optional).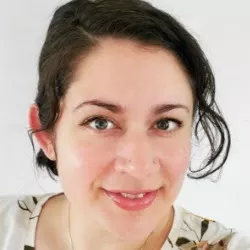 Meet the Chef:
Amy
@savvysavingcouple
Amy is a self-taught baker and cook who has been in the kitchen since she was 10 years old. Coffee, her 3 kids, and her farmhouse are Amy's entire life.