Cookies
1 1/2 cups all-purpose flour
1 teaspoon baking powder
1 teaspoon baking soda
1/2 teaspoon salt
1 cup peanut butter (any style)
1/2 cup (1 stick) butter or margarine, softened
1 cup firmly packed Domino® Light Brown Sugar
1/2 cup Domino® Granulated Sugar Easy Baking Tub
2 eggs
1 teaspoon vanilla extract
Filling
1 quart ice cream or frozen yogurt, any flavor
mini chocolate chips
Yields: about 2 dozen sandwiches
Cookies
---
Step 1
Preheat oven to 350°F. Prepare ungreased cookie sheets.
Step 2
In medium bowl, combine flour, baking powder, baking soda and salt; set aside.
Step 3
Beat peanut butter, butter and sugars in large mixing bowl until light and fluffy. Add eggs and vanilla; beat well. Gradually add flour mixture; beat until well blended. If necessary, refrigerate dough about 15 to 30 minutes, until firm enough to shape into balls.
Step 4
Shape into 1-inch balls. Place 2 inches apart on prepared cookie sheets. Flatten with fork dipped in sugar, making criss-cross pattern.
Step 5
Bake 11 to 13 minutes, or until lightly browned. Remove; cool completely on wire rack.
Filling
---
Step 1
Remove ice cream from freezer; let stand at room temperature to soften slightly, about 10 minutes. Scoop about 1/3 cup ice cream onto the flat side of half of the cookies. Place remaining cookies, flat side down, on ice cream; press cookies together lightly.
Step 2
Roll edge of cookies in mini chocolate chips.
Step 3
Wrap each ice cream sandwich in foil; freeze until firm, about 2 hours or overnight.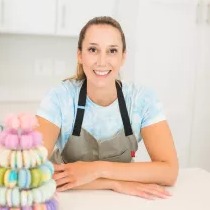 Meet the Chef:
Camila Hurst
Camila Hurst was born and raised in Brazil and has been living in the US since 2011. She is the author of two cookbooks, and the creator of the blog Pies and Tacos.