Ingredients
For Pie Dough:
2 1/2 cups All purpose flour
1 tablespoon Domino® Golden Sugar
1 tsp Kosher salt
1 cup (2 sticks) Unsalted butter, cold, cubed
8-9 TBS Ice water
For Filling:
2 1/2 cups Fresh or frozen strawberries, cubed
1/3 cup Domino® Golden Sugar
2 tablespoons Unsalted butter
1/2 tsp Ground cinnamon
1/2 tsp Ground cardamom
1 tablespoon Cornstarch
Prep Time: overnight + 1 hour / Cook Time: 1 hour / Yields: 10-12 hand pies
Make the Pie Dough
---
Step 1
In a large bowl, combine flour, Golden Sugar, salt and very cold butter. Lightly toss everything around with your hands to coat the butter with flour.
Step 2
Then, start flattening and breaking up the pieces of butter in your hands, between your thumbs and forefingers. You want to end up with some bigger flat pieces of butter, and other smaller varied pea sized pieces.
Step 3
Work quickly because you want everything to stay cold. The mixture should resemble course meal.
Step 4
Add the ice water a couple tablespoons at a time. Toss around lightly with a spoon to hydrate the flour and fully combine. Dough should hold together when squeezed but not be overly wet or sticky.
Step 5
You can knead the dough to bring everything together but DO NOT over-knead it or your crust will be tough. Push dough into a single clump, divide into two equal pieces. Form a disc with each piece and wrap tightly in plastic wrap.
Step 6
Store in the fridge right away for at least 1 hour, or preferably overnight.
Prepare the Filling
---
Step 1
Chop strawberries into cubes. In a large bowl, combine all the filling ingredients and mix together to thoroughly coat all strawberries.
Step 2
Set aside in fridge.
Step 3
Line a baking tray with parchment paper. use a tray that will fit easily into your fridge. Set to the side.
Roll out Pie Dough
---
Step 1
Heavily flour your work surface and rolling pin.
Step 2
Take one disc of dough out of the fridge. Dust a little flour on top of the disc and start gently flattening it into a circle with the rolling pin, picking the dough up and turning (rotate) it on the surface every couple rolls to make sure it's not sticking. when disc is slightly flattened, start gently rolling it out until it's about 1/8 inch thick.
Step 3
Cut out circles with a 4-inch circle cookie cutter.
Step 4
Place cut outs onto parchment paper lined baking tray. Bring together the scrap and re-roll and cut again. if scraps became too soft and sticky, form into a tight ball, wrap with plastic wrap, and chill in the fridge.
Step 5
Place tray of cut circles to chill in the fridge. Repeat roll and cut with second disc of dough.
Assemble
---
Step 1
Take out the first tray of now chilled dough cut outs. with a small shape cookie cutter such as a heart or a star, cut out the centers of half of the circles. alternatively, you can just cut lines.
Step 2
Working quickly, place about 2 tablespoons of filling onto the other half of the circles.
Step 3
Place tops on and seal all the way around with the prongs of a small fork. Place entire tray of assembled pies into the fridge for 15 minutes.
Step 4
Preheat oven to 425 degrees F.
Step 5
Brush hand pies with egg wash and sprinkle with Domino® Golden Sugar. bake for 28-30 minutes, until the crust is golden brown. Repeat with second tray. Serve warm with ice cream and ENJOY!
Chef's Tip
Make this a day before you need it.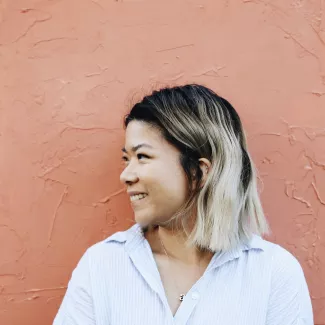 Meet the Chef:
Angela Chung
@momentsofsugar
Angela is a home baker and food photographer passionate about pies, chocolate, and sprinkles! Her ideal day is any Saturday in October, where you'll find her doodling in her recipe journal, waiting for hand pies to come out of the oven, with an iced coffee planted next to her. Find her creations on her Instagram and blog!