1/3 cup Powdered freeze-dried strawberries
2 1/4 cup All-purpose flour
1 teaspoon Baking soda
1/2 tablespoon Arrowroot starch
1/2 teaspoon Salt
13 tablespoons Unsalted butter, melted and cooled
3/4 cup Domino® Golden Sugar
1/2 cup Domino® Light Brown Sugar
1 large Egg, room temperature
1 large Egg yolk, room temperature
1 teaspoon Vanilla extract
Prep Time: 18 mins, plus minimum chill time total 1 hour / Cook Time: 12 mins per batch, 24 mins / Yields: 18.20 cookies
Step 1
---
Add freeze-dried strawberries into a food processer and pulse until the strawberries are reduced to a fine powder. Measure out ⅓ cup.
Step 2
Mix together the all-purpose flour, baking soda, arrowroot starch, salt, and strawberry powder. Set aside.
Step 3
Melt your unsalted butter slowly. Heat until a small amount of the butter is still solid, and stirring until it fully melts to reduce cooling time.
Step 4
Beat the butter, Domino® Golden Sugar, and Domino® Light Brown Sugar until it becomes light and fluffy - about 3 - 4 minutes.
Step 5
Add in the egg, yolk, and vanilla extract. Beat until well-incorporated - about another 2 minutes.
Step 6
Stir in the flour mixture until just combined and there are no streaks of flour.
Step 7
Fold in the chocolate. If you are using whole chocolate bars, roughly chop them.
Step 8
Chill the dough for at least one hour, or up to a day.
Step 9
Preheat the oven to 350°F.
Step 10
Line two baking sheets with silicone baking mats. Portion out the dough into balls roughly 1 1/2 tablespoons big.
Step 11
Bake the cookies one sheet at a time for 12 - 14 minutes. Allow the cookies to cool on the baking sheet for another 5 minutes. Transfer to a wire rack to cool completely.
Additional Tip
The longer the cookies chill, the better they will taste as the strawberry flavor has more time to infuse into the other ingredients.
Use chopped chocolate over chocolate chips to create delicious pools of chocolate in the cookies when you bite into them.
It is important to let the cookies rest on the baking sheet before transferring them otherwise they may fall apart when transferring them.
For added strawberry chocolate flavor, drizzle the cookies with more chocolate and sprinkle with crushed freeze-dried strawberries.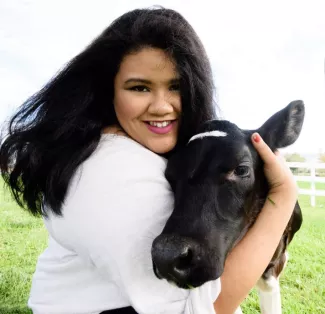 Meet the Chef:
Amanda Powell
@acookienameddesire
Amanda is the recipe developer and food photographer behind A Cookie Named Desire. Her love of cooking and baking developed slowly since she was a child and eventually blossomed into something more while living in London and seeing the faces of her friends light up when enjoying her baked goods. She started A Cookie Named Desire as a way to spread more joy and sweetness. She hopes her recipes can help people create happy memories and traditions in the kitchen with the people they love and care for.