Ingredients
For the pumpkin blondie
1/3 cup Vegan Butter, melted
2/3 cup Domino® Golden Sugar
¾ cup Pumpkin Puree
1 tsp Vanilla Extract
1/8 cup Vegan Unsweetnened Milk, room temperature
1 cup All Purpose Flour
2 tsp Corn Starch
¾ tsp Baking Powder
1 tsp Pumpkin Spice Powder
1 tsp Cinnamon Powder
For the vegan no bake cheesecake
8 oz Vegan Cream Cheese, room temperature
1/3 cup Domino® Golden Sugar
1 + 1/2 tsp Cinnamon Powder
2 tsp Vanilla Extract
1/2 cup Vegan Whipping Cream
1/4 cup Domino® Golden Sugar
For Decorating
Prep Time: 5-6 hours / Cook Time: 20-25 minutes / Yields: 9 bars
Pumpkin Blondie
---
Step 1
Preheat the oven to 350°F (180°C) and prepare an 8inch x 8inch square baking pan by lightly greasing the bottom of the pan and the sides of the baking sheet with oil and line it an overhang of baking paper.
Step 2
Combine melted vegan butter and Domino® Golden Sugar in a medium sized bowl and mix with a hand whisk until combined. Add pumpkin puree, vegan milk and vanilla extract to the butter-sugar mixture and mix with a hand whisk unitl sugar is dissolved for 30 seconds.
Step 3
In a bowl combine all purpose flour, cornflour, baking powder, pumpkin spice and cinnamon powder then stir them into the pumpkin mixture until no dry lumps remain but be careful not to over mix the batter.
Step 4
Transfer the batter to the prepared baking pan and spread it make an even layer. Bake for 15-17 minutes until set and a skewer inserted into the centre comes out with moist crumbs but no wet batter.
Step 5
Leave the blondies to cool completely in the baking pan.
Vegan Cinnamon Cheesecake
---
Step 1
While the blondies cool, make the cheesecake layer. Add the vegan cream cheese to a bowl and mix with a hand mixer for 1 minute. Add Domino® Golden Sugar, cinnamon powder and vanilla and mix until sugar is totally incorporated, about 1 minute.
Step 2
In a separate bowl, combine vegan whipping cream and Domino® Golden Sugar. Whip until stiff peaks form. Transfer the whipped cream into the cream cheese mixture and fold in until smooth.
Step 3
Pour the cream cheese mixture onto the blondies and spread out evenly. Cover with plastic wrap and transfer into the fridge for at least 4 hours or overnight.
Step 4
Once the cheesecake layer has set, slice with a large knife and dust the top with a little cinnamon powder. Serve and enjoy!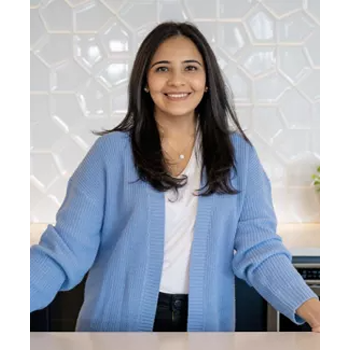 Meet the Chef:
Saloni Mehta
@pastrybysaloni
Saloni Mehta is a former professional chef turned food blogger. Saloni now focuses on creating plant-based desserts and sharing baking recipes on her Instagram page @pastrybysaloni.