For the Bundt Cake
3/4 Cup Unsalted butter, room temperature
1 1/3 Cup Domino® Granulated Sugar Easy Baking Tub
2 Eggs, room temperature
2 Teaspoons Vanilla Extract
2 1/3 Cups All-Purpose Flour
2 Teaspoons Baking Powder
1/2 Teaspoon Baking Soda
1/2 Teaspoon Salt
1/3 Cup Sour Cream
1/3 Cup Milk
2 Cups Blueberries
1 Cup White Chocolate Chips
For the Streusel
1/4 Cup Unsalted Butter, melted
1/2 Cup Domino® Granulated Sugar Easy Baking Tub
1/4 Cup Domino® Light Brown Sugar
2/3 Cup All-purpose Flour
1/4 Teaspoon Salt
For the Icing
1 Cup Domino® Powdered Sugar
2 Tablespoons Milk or cream
1 Tablespoon Butter, melted
1 Teaspoon Vanilla Extract
Pinch Salt
Prep Time: 20 minute / Cook Time: 1 hour
Bundt Cake
---
Step 1
Preheat the oven to 350°F. Line a 1 lb tube pan with parchment paper on the bottom, then grease the sides and the tube in the center with butter. Set aside.
Step 2
In a large bowl, beat the butter and sugar together until light and fluffy. Add in the eggs and vanilla extract. Mix well.
Step 3
In a separate bowl, combine the flour, baking powder, baking soda, and salt, whisking to combine. In another bowl combine the sour cream and the milk and mix to combine.
Step 4
Slowly alternate folding in the flour mixture and the sour cream and milk into the wet ingredients until everything is combined and no streaks of flour remain.
Step 5
Add the blueberries and white chocolate chips. Fold to distribute. Do not over mix.
Streusel
---
Step 1
Combine all the ingredients for the streusel in a small bowl and stir together until the mixture resembles wet sand and starts to clump together.
Step 2
Pour the Bundt cake batter into the prepared pan and top with the streusel. You'll want to squeeze the streusel into your hands, making it dense like wet sand, then sprinkle it over the batter.
Step 3
Bake for 50 minutes to 1 hour, then allow to cool slightly before removing from the pan. Allow the cake to cool.
Icing
---
Step 1
While the cake cools, make the icing. Combine all of the ingredients in a small bowl and mix. Drizzle the icing over the cooled bundt cake. Enjoy!
Additional Tips:
If using frozen blueberries, we recommend tossing them in a few tablespoons of flour before mixing into the batter.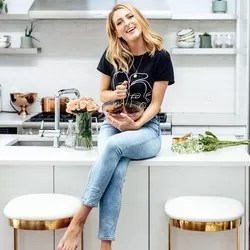 Meet the Chef:
Sarah Crawford
Meet Sarah, the self-taught cook and photographer behind bromabakery! She loves whipping up classic baked goods like her mom's famous chocolate chip cookies and her Better Than Boxed Brownies.