1. Choose Quality Ingredients For Consistent Results:
"I only bake with Domino® Sugar and I love the consistent, delicious results that I get, every time."  
 
2. Buns Are Best Fresh, But Still Great Reheated:
"To enjoy any extra buns within a few days of baking, assuming you actually have any leftovers, just pop them in the oven at 300°F for approximately 10 minutes."  
 
3. Make Better Brûlée With a Crunchy, Caramelized Crust:
"Domino® Golden Sugar is great not just because it's less processed, but also because it has more natural color and flavor. When you use your butane torch to create your brûlée's signature crust, its hint of molasses flavor and beautiful golden color really get a chance to shine."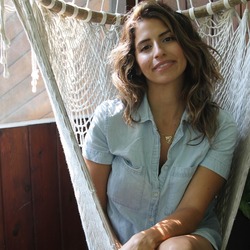 Meet The Chef:
LeAnne Shor
@lions.bread
Meet LeAnne, the baker and author behind Lion's Bread blog - elevated, unfussy recipes from scratch for the home baker. She's a mom of 4 very little ones, and she loves the slower pace of her micro-farm in the country
Four Lovely Treats From @lions.bread
Farm life and raising four kids keeps LeAnne busy, but baking is a release she has a real knack for. Check out these recipes she's created using the sweetness of Domino® Sugar.
White Wine Sangria Poached Pears

Chocolate Hazelnut Babka

Twisted Sticky Almond Morning Buns

Chai Creme Brûlée