Ingredients
For the Salted Caramel:
1 cup Domino® Golden Sugar
6 tablespoons Unsalted butter
½ cup Heavy cream
1 teaspoon Coarse sea salt
For the Graham Cracker Crust:
1 ¼ cups Graham cracker crumbs (approx. 8 crackers)
1/3 cup Domino® Golden Sugar
5 tablespoons Unsalted butter, melted
1/8 teaspoon Coarse sea salt
For the Cheesecake Filling:
16 oz Cream cheese, softened
1 cup Domino® Golden Sugar
¼ cup Sour cream
1 teaspoon Vanilla extract
1 teaspoon Lemon juice
½ cup Salted caramel
3 large eggs
Prep Time: 45 minutes / Cook Time: 40 minutes / Yields: 16 bars
Make the Salted Caramel
---
Step 1
Make the salted caramel: Heat Domino® Golden Sugar in a medium saucepan over medium heat, stirring constantly with a high heat resistant rubber spatula or wooden spoon. Sugar will form clumps and eventually melt into a thick brown, amber-colored liquid as you continue to stir. Be careful not to burn.
Step 2
Once sugar is completely melted, immediately add the butter and stir until melted, about two minutes. (Be careful with this step because the caramel will bubble rapidly when the butter is added.)
Step 3
Very slowly drizzle in 1/4 cup of heavy cream while stirring. Allow the mixture to boil for 1 minute then remove from heat and stir in 1/2 teaspoon of salt. Allow to cool down before using it. (Caramel thickens as it cools.)
Prepare Graham Cracker Crust
---
Step 4
Preheat oven to 375F. Line an 8×8 baking pan with aluminum foil with enough overhang on the sides. Set aside.
Step 5
Make the graham cracker crust: Using a food processor or blender, pulverize the graham crackers into a fine crumb. Pour into a medium bowl and mix with the melted butter, Domino® Golden Sugar, and a pinch of salt. Press firmly into the lined pan and bake for 8-10 minutes. Allow cooling as you prepare the filling. And then reduce the oven to 325F.
Make Cheesecake Filling
---
Step 6
Make the cheesecake filling: Using a handheld or stand mixer fitted with a paddle attachment, beat the cream cheese and Domino® Golden Sugar together on medium speed in a large bowl until the mixture is smooth and creamy, about 2 minutes. Add the sour cream, lemon juice, and vanilla extract, then beat until fully combined. On low speed, add the eggs one at a time, beating after each addition until just blended. After the final egg is incorporated into the batter, stop mixing.
Assemble
---
Step 7
Scoop out 1/2 cup of batter and place in a medium mixing bowl; stir in the salted caramel until combined. Pour the rest of the batter onto the slightly cooled crust. Drop large spoonfuls of the caramel mixture on top of the filling and swirl gently with a knife.
Step 8
Bake for 35-40 minutes, or until the cheesecake has set up and the edges are lightly browned. The bars will be very puffy but will sink slightly as they cool. Allow to cool on a wire rack for 30 minutes at room temperature and then chill in the refrigerator for at least three hours, but preferably overnight. Lift the foil out of the pan and cut into squares.
Chef's Tip
Store bars in a covered container for up to 5 days in the refrigerator.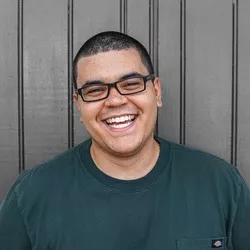 Meet the Chef:
Michael Johnson
Michael Johnson
Meet Mike! He is a New York City-based baker, recipe developer, and food photographer who loves to create indulgent, over-the-top yet approachable dessert recipes. Follow along for recipes designed to satisfy any sweet-tooth!